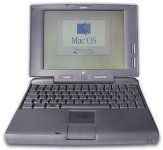 Apple Powerbook 5300 in Independence Day (1996)
David uses the Powerbook to display the coundown to the alien attack, and later to infect the alien mothership with a virus, disabling the attackers' defenses..



The alien ships have indestructible shields. David's virus, delivered by the Powerbook, allows a successful attack.





Let's face it - it's one on the sillier movie plots involving a computer, isn't it!