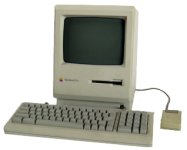 Apple MACINTOSH Plus in Star Trek IV: The Voyage Home (1986)
Scotty uses the Mac to explain the formulation of transparent aluminium. He first attempts to talk to the computer through the mouse.





Things seem to happen unnaturally quickly, but the actual ouput looks reasonable for a Mac of this era.