Die Ente klingelt um halb acht (1968)
Dr. Alexander is a computer scientist who likes his ordered logical life. Taking a shortcut home one day he comes across an elephant that damages his car. He is subsequently arrested by police who do not believe his story and ends up in psychiatric hospital.

---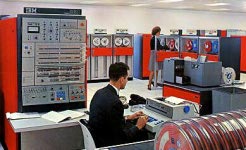 Dr. Alexander gives a TV interview about computers in front of his company's System/360 model 40.