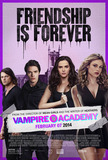 Vampire Acadamy (2014)
Rose is a Dhampir, a protector of a peaceful Moroi vampire princess against the evil and violent Strigoi vampires. Rose and Princess Lissa attend St. Vladimir's Academy but Lissa comes under attack.

---
Rose has a Macbook Pro in her room at the academy on which she receives a threat.